S-i-m-p-l-e beyond words! Two ingredients and about ten minutes to Tastebud Heaven. Serve with oven-roasted spuds (tossed with olive oil) and a broccoli salad.
Directions
Fire up your frying pan to high heat, or get the grill ready.
Sprinkle steaks with salt and pepper to taste.
Toss a dab of butter in the pan (or a spritz of oil).
Place steaks on the hot pan; grill 3 minutes; turn.
Scatter bleu cheese crumbles over steak while grilling for another 3 minutes.
Remove meat from heat, let stand a few minutes.
Serve with oven-roasted potato wedges or whole baked potatoes.
OPTIONAL: Serve with MORE bleu cheese or bleu cheese salad dressing.
Most Helpful
I slammed mine under the broiler until bubbly and browned. That makes it *****
I have loved this combo for years! The only way I change it, is to add a dab of real butter while still very hot. Just a great combo. <br/> A restaurant add this to their menu, after I had asked for these ingredients.<br/>It's THAT good, people. Try it!! Yum!!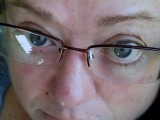 As much as I LOVE bleu cheese, you'd think I'd have had a steak with bleu cheese on it before! But nope! This was my first!! And it WON'T be my last!!!!!!!!!!!!!!! I LOVED IT!!!!!!!!!!!!! NOW I know what I've been missing!!!!!!!!!!! TY Debber!!!!!!!!!!! :)