Pamela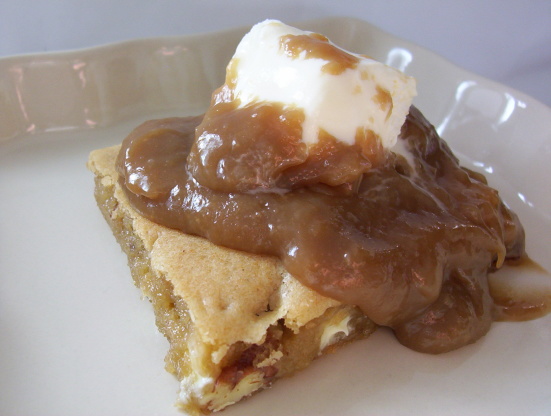 This is an adopted recipe. The original recipe says that it tastes like the Blondie Brownie from Applebees.

great job, but i had problems with the sauce, you could see the cream cheese, maybe it did it wrong...hmm but it was good
Sift together sifted flour, baking powder, baking soda, and salt; stir in nuts; set aside.
With an electric mixer, beat together melted butter and 1 cup brown sugar.
Beat in egg and vanilla.
Slowly beat dry mixture into wet mixture.
Stir in vanilla baking chips by hand.
Spread batter into a greased 9" X 9" X 2" baking pan.
Bake in a 350 degree oven for 20-25 minutes, or until a toothpick inserted in the center comes out clean; set aside to cool.
For topping: In a saucepan over low heat, melt remaining 1/4 cup butter and maple syrup.
Stir remaining 1/3 cup brown sugar into saucepan until it has dissolved.
Remove saucepan from heat and beat in cream cheese and maple extract until smooth.
Return saucepan to low heat and simmer, stirring constantly, until desired consistency.
To serve: place 1 brownie on a plate. Top with 1 scoop of vanilla ice cream. Drizzle topping over. Delicious!