Blackened Tuna Bites with Cajun mustard
Prep 10 mins
Cook 10 mins

This can be served as a dinner or an appetizer. It is positively amazing. This is my own creation inspired by my favorite dish at a local NJ restaurant. I hope you like it as much as I do.
Directions
Make the mustard first: Mix all ingredients in a small saucepan.
Bring to a boil, stirring often.
When somewhat smooth, it's done.
Now start the tuna: TUNA Cut up tuna in large bite size pieces Coat with blackening seasoning Heat oil in pan till very hot, but not smoking Sear tuna on all sides for about 7-10 minutes total.
Do not overcook.
It's good for the tuna to be slightly pink on the inside.
Serve right away with Cajun Mustard.
This can also be made with peeled jumbo shrimp.
Most Helpful
I have made this several times, and didn't change a thing. My husband loves it so much he says it is better than restaurants!
Wonderful! I, too, seared whole tuna steaks on the grill to a medium doneness and they were lovely. The mustard sauce is fantastic and quite plentiful. We even had our leftovers cold, and the tuna and sauce were still great. I can see using this mustard sauce on a myriad of dishes as well. Thanks for posting this. Made for ZWT5 by a Groovy GastroGnome.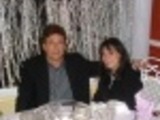 This was wonderful! Especially the sauce was fantastic, and I agree, it would be superb with crab cakes. Made with reduced fat sour cream and mayo. Made for ZWT5