Black-Eyed Pea Supper Dish
DeniseBC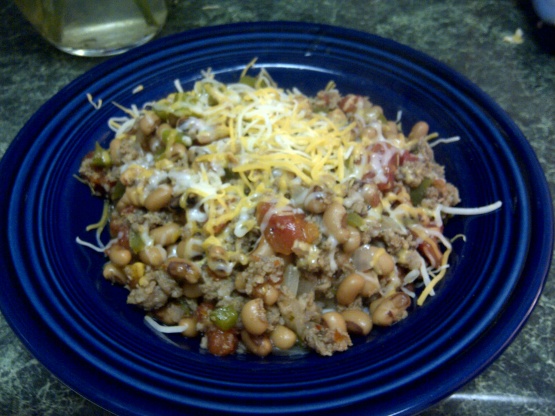 This is one of our favorite cool weather dishes - it's so good with cornbread! The recipe came from Bush's. It's one I never really tinker with, and that's unusual for me. The ingredients are just right in the original.

This was delicious. I didn't pay too much mind to measuring quantities, except for the sausage. I used spicy breakfast sausage. I would have loved to include mushrooms, but I didn't have any. It didn't make a lot, but it would be simple to add more sausage and beans to increase the quantity. I send Rotel tomatoes and threw in the whole can, minus the liquid. This dish was a pleasant surprise.
Brown sausage in large skillet, crumbling with fork as it browns. Drain any accumulated fat.
Add green pepper & onion to skillet with sausage and cook for 5 minutes.
Add tomatoes & seasonings, stir well.
Pour in blackeyed peas with the liquid in the can. Cover & simmer for 15 minutes.
Serve hot with grated cheese on top.