Demelza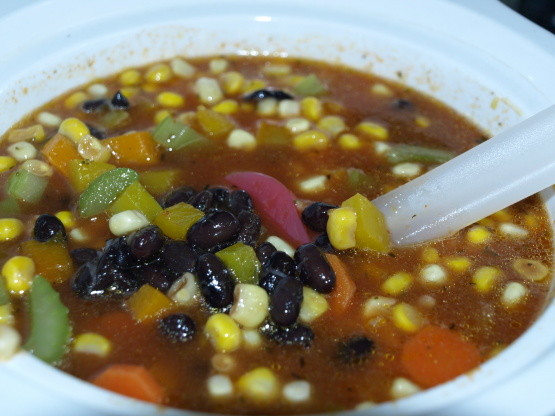 There are several BBS recipes but this one is slightly different and my family's favorite. Made in the slowcooker.

Wonderful soup. It was a hit with my 88 year old FIL. I did cut back on the spices for him a bit, but added a pince of chipotle chili to my own bowl. I added some celery & frozen corn, frozen black beans, some chicken broth, yellow & orange peppers as that was what I had, and then realized I was out of diced tomatoes so used a bit of V8 juice. I didn't puree any of it to thicken at the end as you can tell by the pictures. Leftovers are packaged and frozen for future lunches. Thanks for posting this recipe ratherbeswimmin, it has gone into my file of make again soups.
In a large skillet, let the oil heat over medium heat.
Add in the onion, carrot, bell pepper, and garlic; cover and cook for about 5 minutes or until the veggies are softened.
Transfer veggie mixture to a 4-6 quart slowcooker.
Add in the beans, tomatoes with juice, vegetable stock, bay leaves, cumin, thyme, cayenne, salt and pepper; stir to mix.
Cover and cook on LOW for 8 hours.
Remove and throw away bay leaf; adjust seasonings to taste.
Add in lemon juice right before you are ready to serve.
To thicken soup, puree about 2 cups (or up to one-half) of soup solids by using an immersion blender right in the cooker or take out soup solids and tranfer to a blender or food processor; return puree to slow-cooker.