Black Angus Teriyaki Glaze and Dipping Sauce
valyok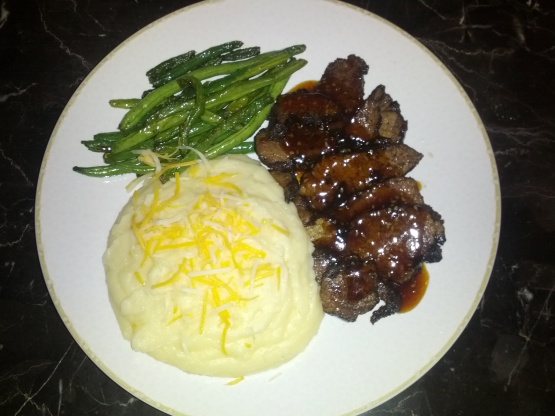 This recipe comes from a copycat recipe site. I havn't made it yet so I don't know if it good or not. Wanted to add to my cookbooks for safe keeping. Update: Made, and it is so good, just like the restaurant sauce. I made a double batch and keep in the fridge so anytime I want to just pull out a steak or chicken breast I have it ready to go. Next time I make this I won't add the sesame seeds to the sauce but just sprinkle on individual steaks. Since I made a double batch and only used as needed, the seeds got soggy, but it "did" keep very well in the fridge.

Top Review by valyok
Thanks Anne~. Turned out really good on top of steak, I'll upload a photo.

One thing I did different is I only put 1 cup of white sugar instead of 1 3/4 cups. I wanted it a little lighter on the sweetness.

One thing I did wrong was I didnt follow directions. I didn't notice that you need to mix the corn starch with water before adding it to the rest of the stuff. I just put it all in there and had chunks that took a while to saturate out.
Heat first 8 ingredients (soy through white sugar) until sugar dissolves. Add brown sugar, cornstarch and water mixture. Simmer until thickened. Simmering time will be 10 to 15 minutes depending on thickness of sauce desired.
* I found the sesame seed got a little soggy so I just will toast them and sprinkle on finished product instead of incorporating them in the sauce. If you are using all the sauce immediately go ahead and follow original directions. I made a double batch since I wanted to keep this on hand in the fridge.