Black and White Vegetarian Chili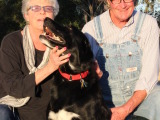 This is a recipe that I first found in Gourmet Magazine. I changed a few things around to adjust to my taste buds. It's a very hearty and fresh tasting. A nice change from regular chili.
Directions
Cook onion, bell pepper and garlic in oil in a Dutch oven over medium-high heat until tender, about 10 minutes.
Stir in chili powder, cumin and ground red pepper. Add tomatoes, beans, hominy, Ortega chilies, broth and enchilada sauce. Cook 10 minutes.
Remove from heat and stir in cilantro.
Sprinkle each serving with cheddar cheese.