Mantes44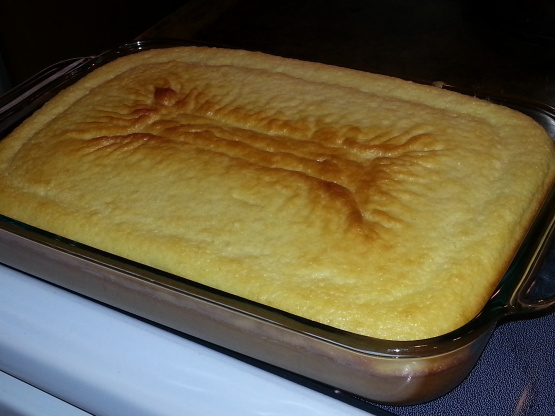 This makes a moist, almost fluffy cornbread. This style of cornbread is quite popular in Hawaii. With all this butter, it has to taste good. I found this recipe because I had a big box of Bisquick and wanted to use it up. It's not very cornbread like, (only 3 Tbsp of corn meal) but it's VERY POPULAR! Everyone loves it! It's like sweet corn cake. I usually cut the milk to 1/3 cup and add a can of corn and a jalapeño or two: blended. Preparation notes: Preheat oven to 350ºF. Melt butter in saucepan on low. In the meantime, in a large work bowl: 3 eggs and 1/3 cup milk, beat eggs and milk. Add remaining wet ingredients except butter. In a separate bowl, combine all dry ingredients. As soon as butter is melted, remove from heat. Grease pyrex pan with a couple pats of butter, room temp. Whisk melted butter from saucepan with wet ingredients. Add dry ingredients to the wet ingredients and stir until combined. Pour into pan and straight into preheated oven for 35 minutes.
Mix all ingredients together.
Pour into an 8 by 8 pan& bake at 350 for 35 minutes.