Calee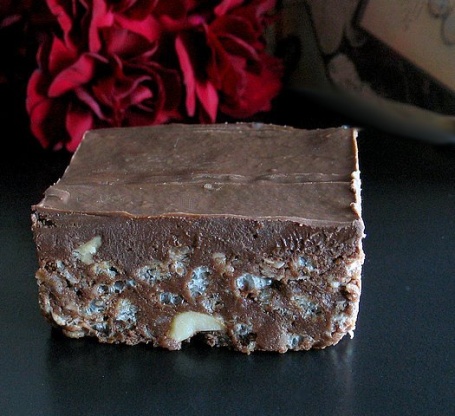 A recipe I haven't made in a while but whenever I do it gets rave reviews. I got it out of our local newspaper.

After making these great chocolate tasties, a handful of them went to a chocoholic friend, a good number were shared at one of the monthly meetings we attend, & the rest were just for the 2 of us for a wonderful chocolate hit. I followed the recipe right on down this first time around, & although I absolutely loved 'em, I see the possibilities for making a variety of bars, subbing peanut butter or even white chocolate chips for the butterscotch or, as another reviewer suggested, milk chocolate instead of semi-sweet! However it's done, though, this recipe is a definite keeper, & I thank you for sharing it! [Tagged & reviewed in Please Review My Recipe]
Place marshmallows, butter, 1 cup peanut butter and 1 cup chocolate chips in a 2 quart glass bowl.
Microwave on high for 2 to 2-1/2 minutes.
Stir until smooth.
Stir in the peanuts, oats, and Rice Krispies cereal until well coated.
Spread into a buttered 9x13 baking pan.
Scrape bowl clean.
In the same bowl, place remaining 1 cup chocolate chips, 2 Tablespoons peanut butter and 1 cup butterscotch chips.
Microwave on high for 1-1/2 minutes.
Stir until smooth.
Spread on top of mixture in baking pan.
Let stand until firm before cutting into bars.