Better Than Sex Appetizer Sandwiches
flower7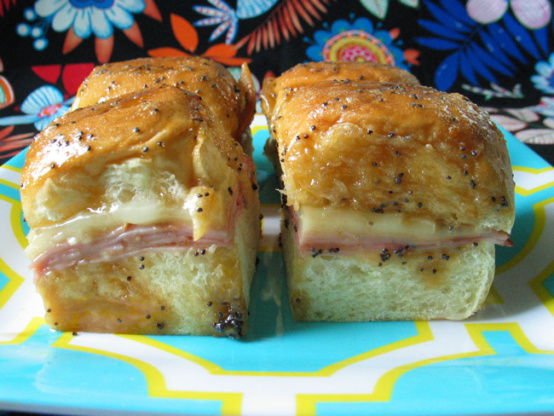 This recipe was given to by my friend, Kristin, who always has great party food. This is a variation of those baked ham and cheese appetizer sandwiches and these are always the first to go.

Top Review by Ms. B
I made these with the bigger Hawaiian Rolls that come 12 to a package. I sprinkled (1 tablespoon) of the poppy seeds on the top instead of adding them to the sauce. If I were going to serve these as an appetizer I would slice them on the diagonal for a smaller snack. They are good, but I'm torn between rating them a 4 or 5... Thanks for posting.
Preheat oven to 350 degrees.
Do not separate the rolls, just slice them all at once with a long serrated knife. Place both packages of bottoms on a sheet pan. Cover the bottoms with the sliced ham and Swiss and put the tops back on. Cut around the individual sandwiches.
Melt the butter and combine with the next four ingredients. Pour over the sandwiches. Bake for 15 minutes or until browned.