Better Squash Casserole (No Bread Crumbs, Crackers or Stuffing!)
Parsley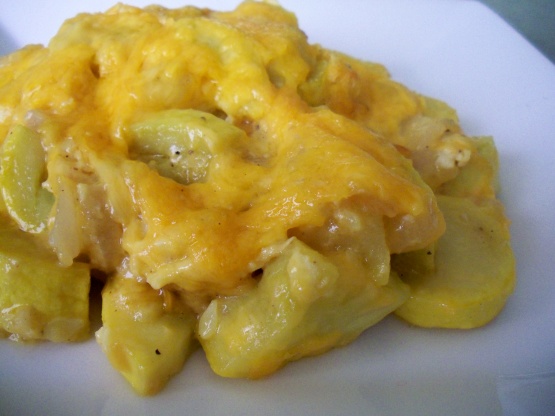 This has been a staple side dish at every holiday meal for my whole life and I could not believe that it had not been reproduced on Recipezaar! I usually take the leftovers home and eat it by the bowl! NOTE This is a recipe that I do by taste so do not feel confined by these measurements i.e. add more squash for leftovers, if you want it cheesier add more cheese, you can't go wrong. Also, I use 1 bag of Pre-Shredded Mexican Cheese Mix, but any mild cheese (Mild Cheddar, Jack, American) should work.

Great recipe for low carb dieters, but very rich. It's helpful to specify 1 lb. of squash as sizes vary. Used yellow cheddar for the mixture and sprinkled a little sharp cheddar on top for color. Also, I cooked squash with 2 T butter and no water and thought I drained it well enough, but it was still a bit soupy. Next time I'll drain it very well. Thanks so much for this recipe - delicious!
Preheat Oven to 350°F.
Chop yellow squash and onion into small, uniform pieces.
Add the squash and onion to a medium sized pot and cook in the butter over medium heat until soft and mushy.
Season cooked mixture to taste.
Beat the egg with a fork and add it to the squash mixture.
Add one cup of shredded cheese to the mixture and stir until melted and mixed.
Pour mixture into casserole dish and top with remaining cheese.
Bake for 30 min or until cheese lightly browned.