Better Homes and Gardens Banana Bread
Boomette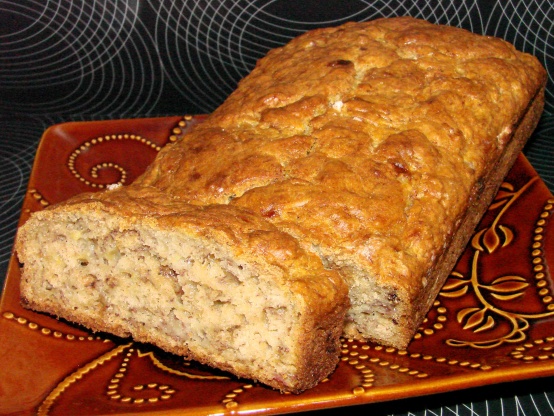 From the Better Homes and Gardens red plaid cookbook. THE best banana bread out there! I always add some cinnamon sugar on top before baking, which adds a subtle but delicious difference. Makes a yummy, crispy top crust! Try it... you won't be disappointed!

This is the best banana bread recipe ever! I learned how to cook from that red & white plaid cookbook & have always had good luck with the recipes. I've customized it over the years using more banana & brown sugar in place of the white sugar. I've also used the Splenda brown sugar & you can't tell the difference. I like to sprinkle brown sugar & diced macadamia nuts over the batter before baking, it adds a really nice touch. My family loves it!
Grease the bottom and 1/2 inch up the sides of an 8x4x2-inch loaf pan; set aside. In a medium mixing bowl combine flour, baking powder, baking soda, cinnamon, and salt. Make a well in the center of the dry mixture and set aside.
In another bowl combine egg, bananas, sugar, cooking oil, and (if desired) lemon peel. Add egg mixture all at once to dry mixture. Stir just until moistened (batter should be lumpy). Fold in nuts if desired.
Spoon batter into the prepared pan. Sprinkle with some cinnamon sugar (like you would use for cinnamon toast). Bake in a 350 degree oven 50-55 minutes or till a wooden toothpick inserted near center comes out clean. Cool in pan on a wire rack for 10 minutes. Remove loaf from pan and cool on rack.