Better Baked French Toast
Nif_H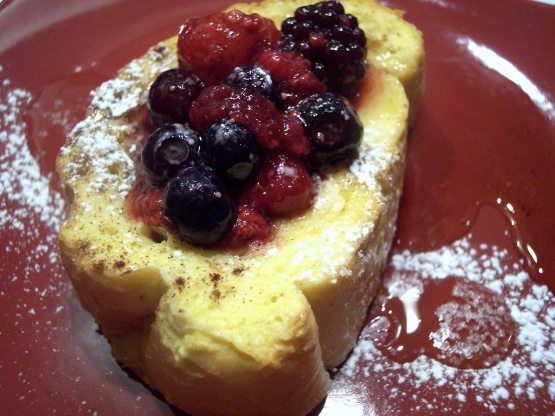 Old family favourite - updated!

Top Review by Nif_H
Very nice! I used 1 1/2 cup of 1% milk and it turned out perfectly. That was a lot of berries, but we don't have much left at all! We used pure Canadian maple syrup on these and served them with bacon. Made for my adopted baby for Fall PAC 2009. Thanks! :)
Preheat oven to 325-350 degrees celcius.
Grease baking pan with margarine.
Whisk together eggs, soy milk, & vanilla
Place bread in shallow baking pan 3-4 slices across (a little squishing is okay).
Pour egg mixture over bread - ensuring that all pieces are covered.
Sprinke with spices.
Place on middle oven rack & bake for 20-25 minutes.
Plate up with mixed berries sprinkled with a bit of powdered sugar (to taste).