Best Vegetarian Pot Stickers
msmia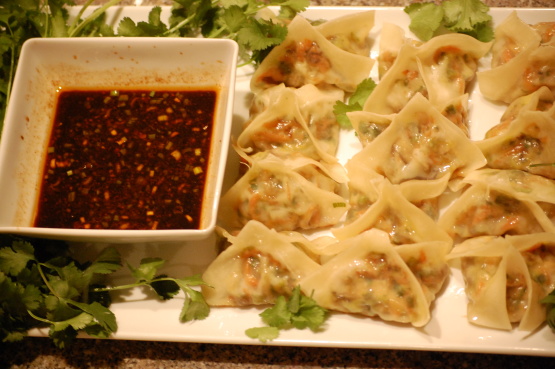 If you like Chinese dumplings, these vegetarian pot stickers will blow your mind!! They are very easy to make (contrary to what people may think) and dumpling skins are available even in Western supermarket now. This recipe should use up one package of round dumpling skin and enough to serve a big crowd as appetizers. You can make these dumplings way ahead of time and defrost and pan-fry them just before serving. A recipe by Ming Tsai.

OH. MY. GOD. Can I just say that BF and I just gobbled up ALL OF THESE!?!?!?! Granted, we hadn't eaten all day but WOW, I think I won't have my cholesterol checked this week like I'd planned :-) These were WONDERFUL! Really great! Be sure to really slam that lid down right away when you're throwing the water in the pan so you don't get completely covered with boiling grease! Also, I couldn't find shiitake mushrooms at the normal grocery store and the ethnic ones were all closed so I just used normal raw sliced mushrooms. Didn't have chives or garlic sprouts either, so I just used green onions! These are PHENOMENOL--served with sushi and some hoisin and S&S sauce as condiments.
In a wok or large saute pan, add a little oil and saute onions and ginger.
Add the mushrooms and stir.
Add the cabbage, carrots and chives.
Season.
When mixture is soft, place in colander to drain.
Add the sesame oil and cilantro when mixture is cooled.
Check for seasoning.
Using the gyoza skins, make half moon dumplings keeping the bottom flat.
In a hot non-stick pan, coat with oil and place dumplings.
When bottom gets brown, add 1/4 cup of water and immediately cover.
This will steam the dumplings.
Carefully watch the dumplings and completely evaporate the water so that the bottom gets crispy again and sticks to the pot.
Serve hot with soy sauce and vinegar for dipping.