Dine Dish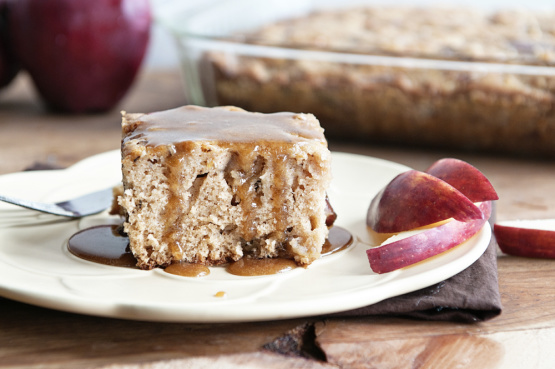 This is my DH favorite cake, I have tried many apple cakes over the years and this is a winner!! So moist and dense, with a caramel taste, cannot say enough, just try it and see.

I don't understand people that give something 5 stars and say it was delicious, then proceed to list all the things they did to the recipe to make it better. As posted, this recipe is not good. I almost didn't make it because it doesn't have any seasoning whatsoever and way too much oil, but decided to trust the reviewers and go for it. Mistake. It has no flavor, is too oily and just plain blah. You'd be better off dipping the slices of apples in the carmel sauce and skipping the cake.
In a large bowl combine flour, sugar, soda and salt. Make a well in the center and set aside.
In a medium bowl combine eggs, oil, apple juice and vanilla. Stir in apples and nuts. Add the egg mixture to dry ingredients, just until moistened.
Spread batter in a greased and floured 9 x 13-inch pan. Bake at 350°F for 45-50 minutes.
In a small saucepan combine the brown sugar, butter and cream.
Cook and stir till bubbly and all of the sugar is dissolved. Cool slightly. Drizzle warm sauce over cake, when it has cooled for 5 minutes, so it can seep into the cake, keeping it moist.