Parsley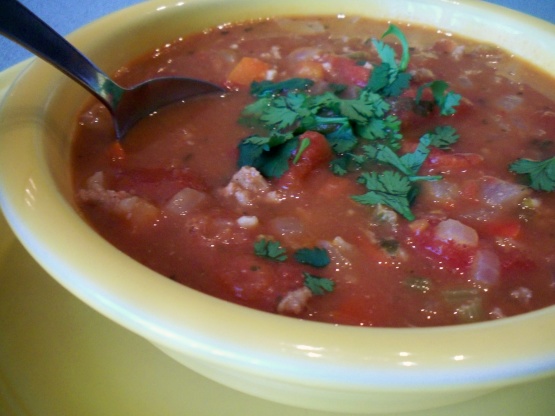 DO NOT BE FOOLED BY THE TITLE! Your kids, hubby, wifey, and everyone will eat it. I have made triple batches and could not keep it in the house. It's very smooth, and easily eaten by anyone with or without teeth. :) Fights have started over the leftovers.

Top Review by Amy020
Dontcha hate those reviews that say "this was SO good, but I changed everything about it..." Well, unfortunately, here goes.... I was at the point of no return with the recipe when I discovered that I didn't have any refried beans on-hand. (Very odd! I ALWAYS have a can or two in the pantry!) The closest substitute I could come up with was a 16 oz. jar of nonfat black bean dip. Oh. My. Goodness. What a fabulous soup it made! Because the dip was already seasoned, I omitted all the seasoning in the recipe except for adding cilantro, which I LOVE. At that point, I figured what the heck and threw in a little less than a cup of corn I found in the bottom of the freezer. And, b/c I thought the soup might not be "hearty" enough for DH, I threw in 1/2 c of orzo at the end after whirring it A LITTLE with a stick blender. What resulted was a fabulous, thick, hearty, soup that was a perfect way to end the 20-degree day we had in MD. Sorry, Tugar, that I can't rate the recipe the way you posted it. But it was certainly the inspiration for a soup that I will make again and again! :-) FYI, the way mine ended up, it's 7 WW pts/6 hearty servings.
Roughly chop the onion, pepper, and celery.
Add the oil to a large stock pot and add the chopped vegetables, cooking until soft.
Add the beef and cook until browned.
Add the tomatoes and refried beans with the garlic, spices, and mix well.
Stir in the stock (you can use bouillon cubes and omit some of the water to make this as a dip) and bring to a boil.
Reduce heat and simmer for 30 minutes stirring occasionally.
Either use a stick blender or small batches into your food processor and puree the soup.
Adjust the seasonings (I like mine A LOT spicier so I add more cayenne and some green chilies to the mix, sometimes a dash or two of Tabasco.).
Serve with sour cream and tortilla chips.
Freezes Well.