dicentra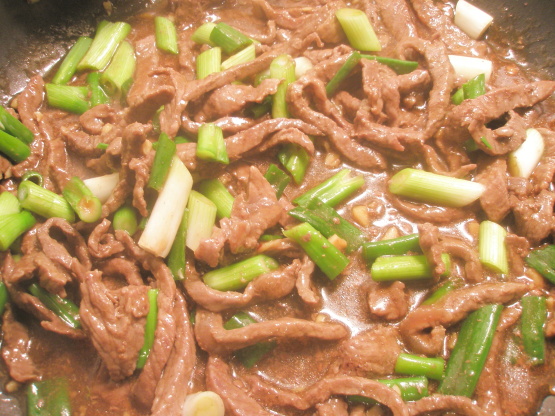 This was good and very easy to make for quick meal.Only changes I made was I used grapeseed oil to fry the beef and arrowroot powder instead of the cornstarch. Neither one changed the taste, but I tried to amp up the nutrition factor.
Cut steak diagonally across the grain into very thin slices. Sprinkle with salt and pepper.
Sauté ginger in hot oil a large nonstick skillet over high heat 2 minutes or until tan-colored.
Add minced garlic, and sauté 30 seconds. Add beef; cook 2 minutes, stirring constantly. Stir in soy sauce.
Stir together beef broth and cornstarch
until smooth. Drizzle over beef mixture.
Cook, stirring constantly, 1 minute or until thickened. Add green onions, and, if desired, crushed red pepper; cook 1 minute. Serve immediately over hot cooked rice.