Barb G.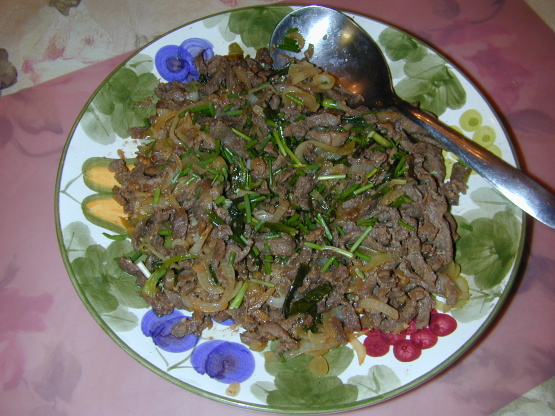 A quick, easy and delicious recipe I found in the Chicago Tribune a while back. I serve this with steamed rice and a green salad.
Delicious, easy to make, I made it just like the recipe stated, though I marinated it for about 1 1/2 hours, worked fine. Served it with Jasmine steamed rice, fresh green beans and a side salad.I had left overs which I am looking to having for lunch :). Thanks Judy, for posting this yummy recipe.
Combine the steak, garlic, soy sauce and ginger in a bowl; marinate for 20 minutes.
Heat oil in a large skillet or wok over high heat; stir-fry the beef mixture until the slices are nearly cooked through, about 3 minutes; remove beef to a plate and add the onions and the green onions to the skillet; stir-fry until onions are soft, about 4 minutes, adding more oil if necessary to prevent sticking.
Return the beef to the pan; lower heat to simmer and simmer 2 minutes so flavors mingle.
Garnish with chopped chives and serve hot.