Derf2440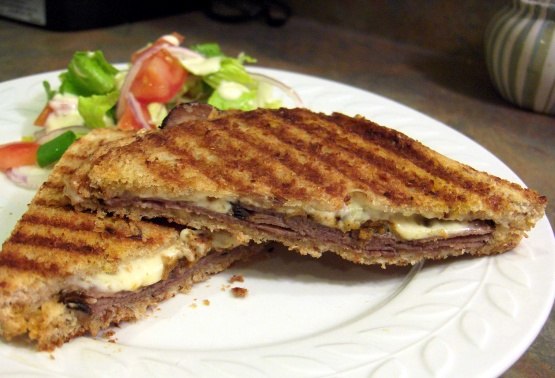 Cant remember where I got this recipe, but it's good. Also great summer recipe because it keeps the house cool.

These were just as awesome as Faith told us they were! I did have to sub a bit. DH came home from the store with DRIED basil, not fresh! So I ended up using what I had, which was cilantro. I know we'll all like it better with the basil pesto but this was still very good. I didn't want to make spaghetti sauce & pesto so we dipped it in horseradish & it was excellent. Thanks for sharing, Karen! Made & enjoyed for the cookathon. :)
Spread 1 side of each slice of bread with butter.
Place 4 slices of bread butter side down on 12-inch skillet.
Top bread with beef, pesto and cheese.
Top with remaining bread slice butter side up.
Cook sandwiches on skillet or grill over medium heat 4-5 minutes, turning once, until bread is crisp and cheese has melted.
Serve with spaghetti sauce if desired.