Beef and Bean Taco Skillet
Parsley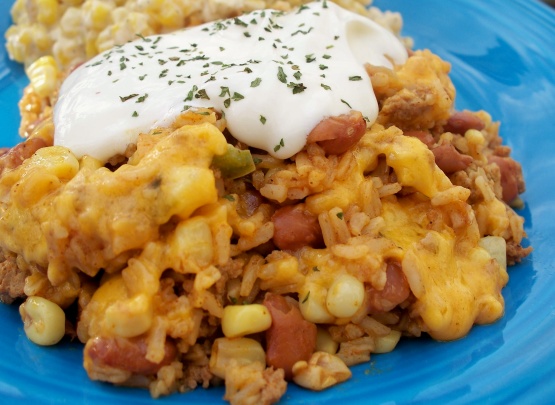 This is something I whipped up with ingredients on hand. Very tasty and quick to the table!

I gave this 3 stars. This got mixed reviews in my house. My 6 yr old newphew didn't like it. My 8 yr old niece and 4 yr old newphew ate this right up (even though my niece doesn't like beans). I thought this was ok, it was lacking flavor I think I'll add more taco seasoning next time. My future hubby had 2 bowls and said he liked it. I served ours with additional cheddar, crushed corn chips, sour cream and mild salsa. Overall I'll make this again for sure! Thanks for posting a good recipe! Christine (internetnut)
Brown meat in a large skillet.
Drain.
Add taco seasoning, water, corn, beans and chiles to the skillet. Season to taste with salt.
Bring to a boil.
Stir in rice.
Sprinkle with cheese.
Cover and cook on low heat 5 minutes.
Serve with crushed tortilla chips, sour cream and salsa, if desired.