Rita1652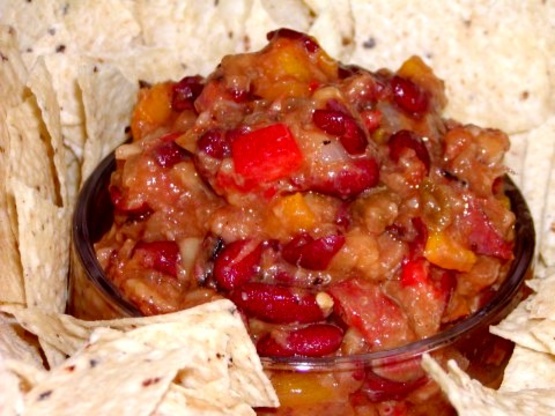 This is an Ecuadorian recipe which I got from the book, "South American Cooking". The author suggests that it is good for tailgate parties. Unusual and maybe even a little "weird", but one of those combos that surprises you with how good it is. This would halve easily if you're not feeling daring and would rather make a smaller quantity. :)

This was a hit. We will definitely make it again. (I wasn't sure what to do with the bananas so I just cut them into small pieces?) Next time I might decrease the amount of banana and put in a little more meat or beans. But it was still tasty. Thanks for sharing!
In a large saucepan, sauté the sausage over medium-high for 5 minutes, stirring constantly to prevent sticking and break up the meat.
Add onion and continue to sauté until onion is soft.
Reduce heat to medium and add garlic, chiles, tomato sauce and cook for 5 more minutes.
Add beans and bananas and enough bean liquid to make a thick dip consistency.
Mash beans slightly with a spoon or potato masher and mix well.
Cover and cook over low heat for 5 minutes.
Serve warm with tortilla chips.