BBQ Ranchero Chicken Salad
DuChick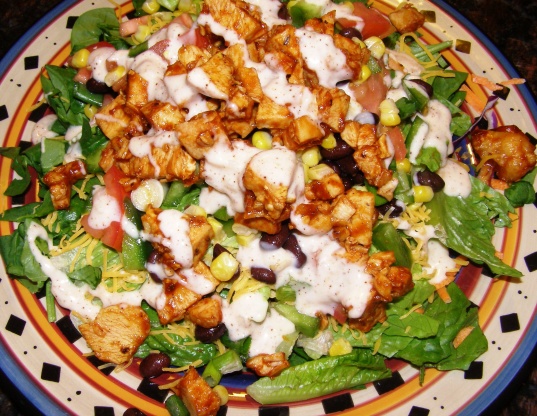 I have made this salad for years! It is a family favorite. I make a few small (but worthwhile) changes, first, I sautee chicken breasts in a little oil and butter, then shred or cube the meat, add the BBQ sauce, and let it simmer to absorb the flavor. Then I use Green Giant Mexicorn (with red pepper) to save time. I do not put the cheese or lettuce in the black bean/onion/tomato mixture, it just gets soggy, for each salad, I put down a layer of lettuce, then the corn/bean relish, then chicken, then dressing, and top it off with the cheese and olives. Lastly, I ALWAYS serve it in a flour tortilla shell bowl! Just place a burrito sized flour tortilla in a metal (or other oven proof) bowl of appropriate size, (prick it a few times to prevent bubbles) Or use a tortilla shell bowl form which is what I have. And bake @ 350 until brown, and crisp. (about 12 min or so) The flavor of this salad is INCREDIBLE! I just love it! 04/29/08 Just a quick update: As I said, this recipe is one my family enjoys on a regular basis, It's so pretty when served, I decided to snap a quick pic, I was lucky to get these 2 before my 17 yo son snatched this one right off the table!
6

boneless skinless chicken breast halves, about 1-1/2 lbs.
1⁄2 cup barbecue sauce

1

(10 ounce) package mixed salad greens, torn (6 cups packed)

2

medium tomatoes, chopped
1 1⁄2 cups jalapeno pepper cheese, your favorite (6 oz.)

1

small red bell pepper, cut into short, thin strips

1

(11 ounce) can whole kernel corn, drained
1⁄2 cup canned black beans, rinsed and drained

1

(2 1/2 ounce) can ripe olives, sliced, drained

2

green onions, thinly sliced

1

cup fat free ranch dressing

1

teaspoon chili powder
3⁄4 teaspoon cumin, ground
Brush both sides of chicken with barbecue sauce; grill or broil about 5" from heat source 6 minutes per side, or until juices are clear.
Meanwhile, in a large bowl, combine lettuce, tomatoes, 3/4 cup cheese, pepper, corn, black beans, olives and green onions; mix well.
Combine dressing, chili powder and cumin; mix well.
To serve, divide lettuce mixture onto 6 serving plates.
Cut chicken crosswise into 1/2" thick slices; arrange over lettuce. Drizzle salads with dressing and sprinkle with remaining 3/4 cup cheese. Chicken may be cooked, cooled, covered and refrigerated up to 1 day before serving.
Reheat chicken or served chilled.
Lettuce mixture and dressing may be prepared separately, covered and refrigerated up to 4 hours before serving.