Basil, Garlic Plus Mashed Potatoes
Bergy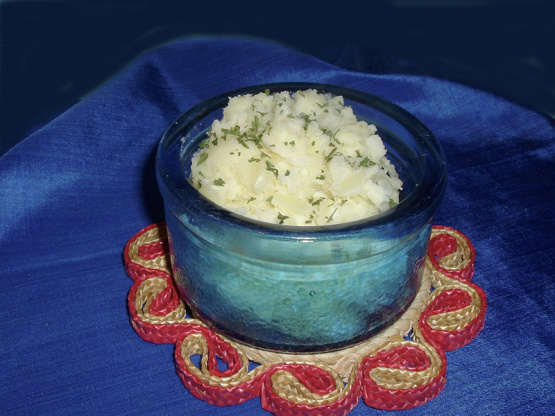 These potatoes have wonderful flavor from the added ingredients that they are cooked and mashed with. A bonus for any dinner. For a low fat version substitute lowfat sour cream instead of the cottage cheese & Buttermilk. I use 2 cubes of frozen fresh basil.instead of fresh chopped. I had some left over potatoes so I mixed some bread crumbs and Parmesan cheese, made pattie from the potato, coated the patties with the cheese crumbs, fried with light spray of Olive oil MMMM very good

My daughter requested smashed Red potatoes, and I knew that I had this in my cookbook, so we gave it a try. I made with new red potatoes and used sour cream instead of cottage cheese because that is what I had on hand. These were wonderful, and will be a regular at our home.
Cover the potatoes with water add the celery, onion, garlic& salt.
Cook until tender (apprx 15-20 minutes).
Remove celery& discard.
Drain well through a sieve so you don't lose the onion& garlic.
Mash the potatoes.
Combine Cottage cheese, buttermilk& Basil, add to potatoes, mix until smooth.
Reheat over very low heat.