Basic Baked Potato With Bacon, Sour Cream & Chive Topping
Boomette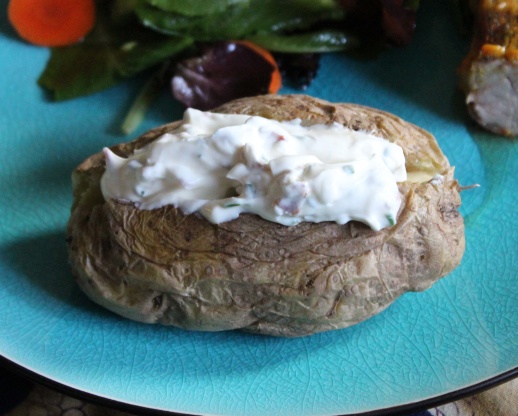 Just plain old baked potatoes in the oven, on the grill or in the camp fire.
If baking in the oven preheat to 400°F.
Scrub the potatoes well with a vegetable brush and water, then dry.
Poke potatoes with a fork several times so they won't explode, and, if desired, dust with salt while still wet.
Bake directly on oven rack until tender (for one hour) or wrap in tin foil and bake in campfire or on the grill (over high heat) for 45 minutes, turning once.
In a small bowl, combine chives, bacon bits and sour cream; mix well.
Let potatoes cool for several minutes, open, spread with butter and sprinkle with salt and pepper and serve with sour cream topping.