Barbecued Skewered Chicken
diner524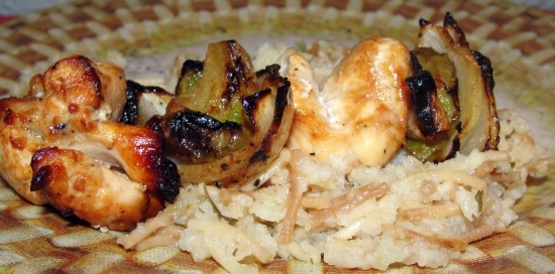 Serve with corn on the cob and potato salad. Mushrooms, cherry tomatoes and green, yellow or red pepper pieces could also be added to each skewer.
I made this using 2 large chicken breast, that I sliced, added it to the marinade along with chunks of onion and green pepper. The only thing I changed to the marinade was to leave out the rosemary, due stong dislike of it. I let the meat/veggies marinade through the day and then skewered the chicken and veggies and cooked on the grill. Served with a chicken rice and green beans for a wonderful meal. Made for your win in the football pool, congrats!!!
Cut chicken breasts into strips about 1 1/2-inches long and 3/4-inch thick. Combine remaining ingredients in a glass dish. Stir chicken into marinade. Cover and chill for 3 to 6 hours. Drain off marinade and thread chicken strips lengthwise onto skewers. Grill over hot coals for 3 to 4 minutes on each side.