These are time consuming but worth every minute of it. They're fall off the bone tender and the flavor is out of this world. It's my most requested dish when we have company.
Directions
Place ribs on a rack in a shallow roasting pan. Scatter 4 cloves of sliced garlic over ribs. Cover, and bake at 300°F for 3.5 hours. Cool slightly.
In a small bowl, mix together white sugar, paprika, salt, black pepper, chili powder, and ground cumin. Rub spices over cooled ribs. Cover and refrigerate overnight.
Next day, in a small saucepan, mix together brown sugar, cider vinegar, molasses, ketchup and chili sauce, Worcestershire sauce, lemon juice, onion, dry mustard and 1 clove of crushed garlic. Simmer over medium low heat, uncovered for 1 hour. Reserve a small amount for basting and use the remainder for a dipping sauce.
Preheat grill for medium heat.
Place ribs on grill. Grill, covered for about 12 minutes, basting with the reserved sauce until nicely browned and glazed. Serve with remaining sauce for dipping.
Reviews
Most Helpful
This sauce was really good!!! I was out of chili sauce, so I added extra catsup. At first I thought it was a little too "peppery", but after it cooled down & I glazed some baby back ribs with it, I changed my mind!!!! Will DEFFO make again!!! THANKS for sharing!!!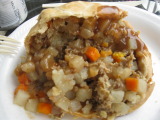 This was my first try at ribs and this recipe is a "keeper" for sure! moist, tender, fall off the bone. Sauce is so good, you want to lick the pot! Thanks so much Scooby!
These ribs are awesome! So much marinating and baking but so simple, but believe me it is worth it! Moist tasty ribs! Thanks so much for a great recipe.