COOT226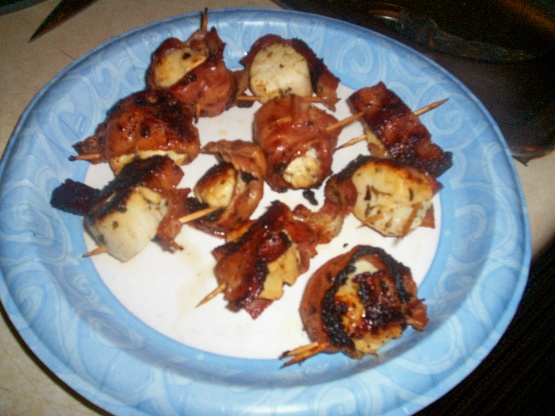 Miller, this one is really devine! We prepared these this weekend and follow your recipe and directions entirely. What we discovered was the most delicious scallops I have ever tasted. They came out light and tender and the bacon & lemon really set the flavors. First time my husband ever tried scallops and now he wants more this weekend. Personally I can't wait. So easy and so tasty. Thank you for sharing this one!
Place the melted butter, lemon juice, pepper and parsley in a large bowl and mix well.
Add the scallops and turn to coat.
Cut each bacon rasher in half width wise and then wrap each scallop in half a rasher of bacon, threading them onto skewers as you go and reserving any remaining butter mixture.
Cook over hot coals for 3-4 minutes each side, basting with the remaining butter mixture, until the bacon is crisp and golden brown.
To serve- transfer the skewers to a serving platter and drizzle any remaining butter mixture over the top.
Serve immediately.