lazyme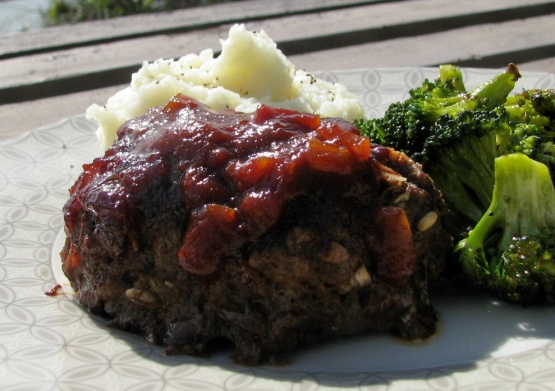 This is a recipe that I used to make all the time when DH and I had Kids at home and money was a big issue. It is off a recipe card from Betty Crocker back in 1971. It's from the "Best before payday dinner" card. I used it alot and still make it once in a while because it is so good. I should put it in my "Money is tight now that I'm retired cookbook". (For future use) Based on Chef Tweaker's review I have moved some of the steps for ease in preparing this dish.

Top Review by lazyme
These were great! I made 3 large beefies for 3 of us but made all of the barbecue sauce. The 2 guys raved about them. As has already been mentioned, these reminded me of mini meatloaves with the oatmeal in them and the sauce was really good. This made it into my Best of 2015 cookbook. Thanks Teresa for such a nice winner. Made for For Your Consideration tag.
Barbecue Sauce:.
In saucepan mix all ingredients for Barbecue Sauce.
Simmer uncovered for 30 minutes.
Preheat oven to 350°.
Mix all ingredients except Barbecue Sauce.
Shape mixture into 16 patties; place in ungreased baking pan, 13 X 9 X 2 inches.
Pour Barbecue Sauce over patties.
Bake uncovered 1 hour.