Barbecue Ginger Prawns (shrimp)
Debi9400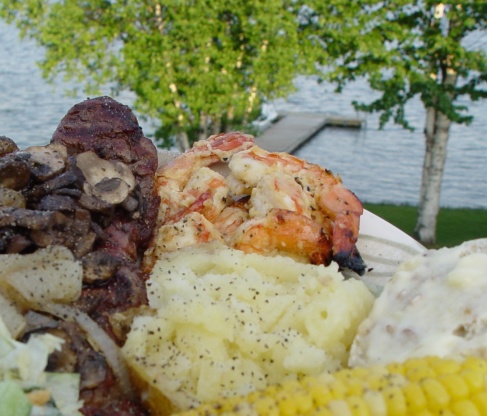 A ginger, garlic and chilli marinade for prawns (shrimp) especially for your BBQ from the Australian Barbecue Kettle Cookbook. Preparation time does not include time to marinate.

Top Review by Gerry
Adding onion, 6 cloves of garlic, and ginger to lemon juice and olive oil gives you a wonderfully flavourful combination - the chili powder an unexpected touch that makes this marinade special. Have been doing skewers as starts/appetizers for our outdoor cookouts - this one went over big time!I think it would be great for chicken as well. One can't have too many combinations of marinades for those summer BBQ's! Thank you Jewelies - have added this to my collection.
Shell and wash the prawns leaving the tails intact.
Blend all the marinade ingredients in a food processor until smooth.
Place prawns and marinade in bowl, cover and marinate for 1-2 hours.
Remove from marinade.
Cook in the BBQ with lid on for 8-15 minutes, or until cooked through (DO NOT OVERCOOK), depending on size.