Susie D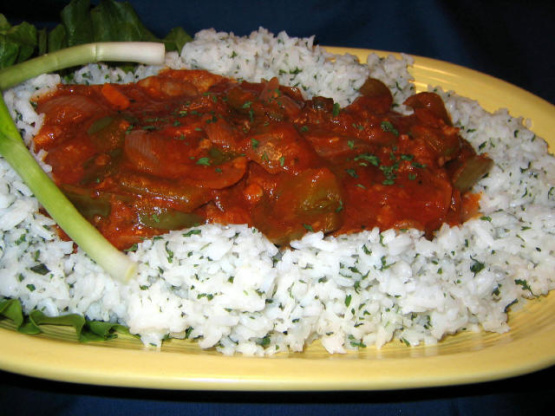 This is one of thoes comfort foods that my mom always made that I now crave being on my own. i guessed on the timing and amounts as I usually just make it off the top of my head.

Very nice tasting meal. I only had about half a green pepper, so I added some chopped carrots and celery. I also added a splash of wine and a dash of crushed red pepper. Had some left over for lunch the next day so I took the beef and cut it up small and added it back in with the sauce and served it over fresh pasta topped with parmesan - even better the next day. Thanks!
6

steaks, whatever cut you like

1

(28 ounce) can tomatoes, diced or crushed

1

onion, roughly chopped
1⁄2 garlic clove, chopped
meat tenderizer (optional)
little flour
if the cut of meat you are using is an inexpensive cut it is a good idea to liberally shake some meat tenderizer on it. since meat tenderizer is so salty be sure to take this into account when later seasoning the dish.
next dredge the meat in a little flour and brown it in a touch of oil. this is completely optional and if you are on a low-cal diet it's okay to use a non-stick pan and no oil or flour. it does taste better browned in the oil though.
take the meat out and put on a plate. in the same pan add the onions, and garlic and brown a little. then return the meat to the pan, add the tomatoes and the peppers, a touch of worchestershire sauce and a little basil, or whatever spices you may enjoy.
simmer for about a half an hour. the sauce should still be relativly runny and is great served on a bed of rice or whole wheat pasta.