Banana Streusel Coffee Cake
Pamela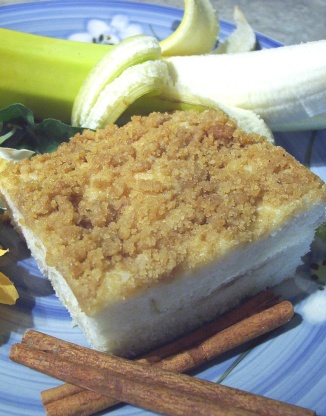 This is a unique banana cake, as it has sliced bananas added instead of pureed, with a wonderful buttery streusel topping...a wonderful coffeecake to serve to guests or family.

This was very good--we all enjoyed it. The flavor was excellent. The only thing I did different, was that I used buttermilk instead of regular milk (I had it on hand since I was planning on making a banana bread until I came across this recipe!). Personally, we thought that 4-1/2 cups of bananas was a little too much. The next time I make it, I think I will try using less bananas, and maybe mash them instead of slicing them. I will update my review at that time. Thank you for sharing this recipe, dojemi!
Set oven to 350 degrees.
Grease a 13" x 9" baking pan.
Cream 3/4 cup butter and sugar until light and fluffy.
Add eggs and vanilla, beating well.
Stir in cream; mix well.
Sift together dry ingredients; add to creamed batter; mixing well.
Then fold in sliced bananas.
Spread mixture into prepared baking pan.
FOR STREUSEL: Mix together brown sugar, flour and cinnamon; cut in butter, until mixture is crumbly.
Sprinkle on top of coffeecake.
Bake for 45-50 minutes, or until cake tests done.