Debbwl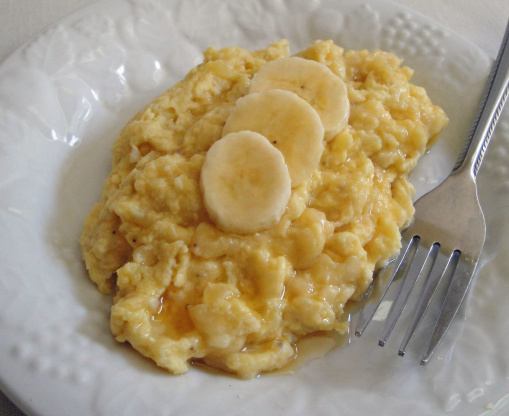 I discovered this from the remnants of banana french toast -- and it was so delightful that I just made this the next time! Easy and quick and tastey with honey ontop!

Just made this tonight for dinner. SO GOOD! I used 1/2 cup egg whites, and one large banana which I mashed with a pastry blender, leaving some chunks, as well as cinnamon. I was originally planning on using some sugar-free syrup, but when I tasted how sweet this was, I didn't even bother!! Tastes EXACTLY like french toast!! Will make again and again!!
Note, even with 1/2 cup egg whites (aprox = 2 whole eggs) the serving size is fairly small. Ok for a snack, but for a meal, you may want to use more, closer to 3-4 eggs (2/3 - 1 cup whites)
Spray a small frying pan with nonstick spray (or use a dab of butter/ oil).
Turn the stove on medium low heat.
In a small bowl, mash the banana then add the egg. Whisk together until combined.
Add mixture to pan, stir slightly to cook. DO NOT OVERCOOK! A little undercooked is fine, since the heat will continue to cook the eggs for a while after you remove from pan.
Scoop mixture onto a plate, drizzle with honey, and bon appetite!
Serve immediately.