karen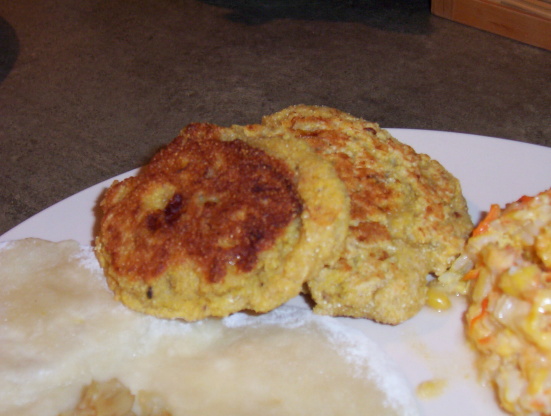 The bananas make these fritters only slightly sweet, you could add in sugar if desired for a sweeter taste, they go perfect with roast pork loin or roast turkey or or chicken dinner. These are briefly browned in a skillet the finished in the oven to puff up. If you are doubling the recipe, prepare same amounts in separate bowls do not double into one recipe. These are really good!

My family went crazy over this recipe. I did make one change: I added imitation banana extract, which I often do with banana recipes, since the strength of the taste of old bananas can be variable. They were flavorful and a huge hit with the family! Served them with jerk chicken and cuban style rice.
Set oven to 375 degrees.
Spray a baking sheet with cooking spray.
in a bowl whisk together cornmeal, flour with baking powder, salt, cinnamon and cayenne pepper (if using).
In another bowl mix together banana with egg and milk.
Add the cornmeal mixture to the banana mixture and stir until just combined.
Heat a small amount of oil in a skillet over medium-high heat.
Drop about 2 tablespoons batter into the skillet; cook until golden brown (about 1 minute on each side, do not overcook in the skillet just until lightly browned).
Using a spatula transfer to baking sheet.
Continue with remaining batter (adjust heat to avoid burning the fritters).
Bake until puffed and firm to the touch (about 8-10 minutes).