gailanng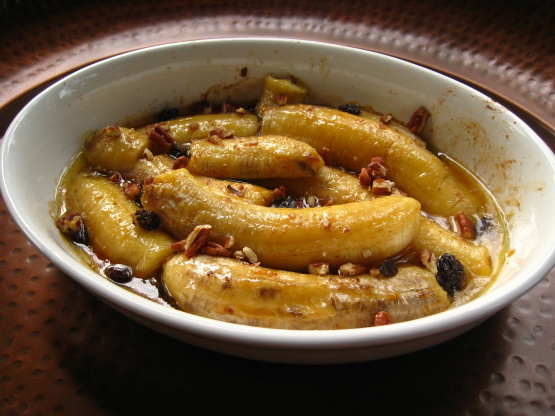 A Cuban dessert recipe adapted from Bake Until Bubbly by Clifford Wright. This could be adapted to individual ramekins--that way you could downsize the recipe. You could also add more caramel sauce and whipped cream. I have changed this a bit after looking at Chef#296809's excellent suggestions.

Made as a prize for the *Best of 2008* cookbook game, I served this spec treat in gratin dishes that were shallow & did not allow for layering ~ so I just watched it till 1-2 min into the bubbly stage (15 min). Altho the recipe did not suggest it, raisins are dry & they were going to be baked ~ so I plumped them in the brandy & butter prior to assembly. That eliminated the later step to add the brandy & I highly recommend this method. Then I just spooned the mixture atop the bananas & finished the prep. It was barely a few min from start to oven-ready & the result was just wonderful. This recipe easily serves 6 IMO, a chg that would improve the nutritional data. The more fat-conscious can prob reduce the amt of butter by 2T, but not me. I never mess w/perfection! Thx for sharing this recipe w/us. *Yum* ! :-)
Preheat oven to 350 degrees.
Microwave 4 tablespoons of the butter in small dish until melted; add the raisins and brandy and let the raisins "plump up".
Lightly butter a 2 quart baking casserole.
Use the remaining butter to "butter" the bananas.
Arrange half of the banana halves in the casserole.
Sprinkle half of the brown sugar on top.
Sprinkle with half of the raisin mixture and all of the pecans.
Repeat the layering with the remaining ingredients.
Bake until bubbling, about 30 minutes.
Let rest 5 minutes, then serve hot.