Banana-Berry Brownie Pizza
Heydarl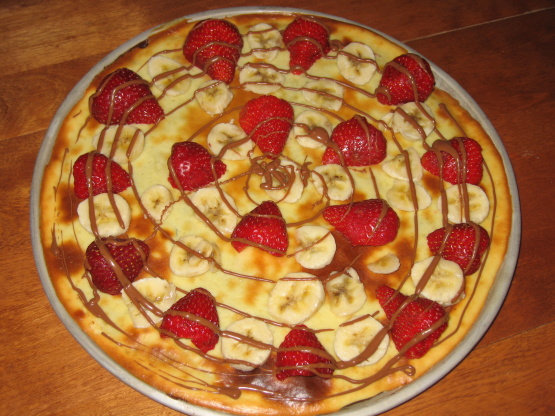 From the June/July 2004 Taste of Home. Looked good!

These were soooo good. I really love the brownies. I baked the initial brownies for 20 minutes and then ten minutes with the toppings to make the brownies moist. And it was moist! And so good!
In a bowl, combine brownie mix, water, oil, and egg until well blended.
Spread into a greased and floured 12-in pizza pan.
Bake at 350 for 25 minutes.
In a mixing bowl, beat the cream sheese, sugar, egg, and vanilla until combined.
Spread over brownie crust.
Bake 15 minutes longer or until topping is set.
Cool on a wire rack.
Just before serving, arrange strawberries and bananas over topping; drizzle with chocolate.
Refrigerate leftovers.