Baked Salsa Chicken Breast
vrvrvr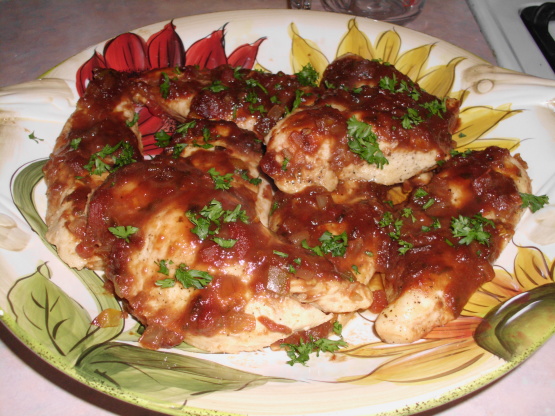 Made this tonight for DH's birthday dinner, along with black beans, and he loved it! I used hot Arriba! roasted salsa with chipotle peppers, and boy, was it nice and zingy! I had two boneless skinless chicken breasts and two legs with skin and bones, so I browned the legs and cooked them separately for about 20 minutes, then browned the chicken breasts, then baked them as directed. Delicious! Loved how the vinegar, brown sugar, and dijon mustard really added a depth of flavor to the sauce. Thanks, Denise, for a lovely birthday dinner!
Place chicken breast in a 2 quart baking dish that has been sprayed with cooking spray.
Combine the salsa, brown sugar, vinegar and mustard in a bowl; pour over chicken Bake at 400 for 30 minutes.
Serve with rice or buttered noodles.