Baked Potato Brunch Casserole
vrvrvr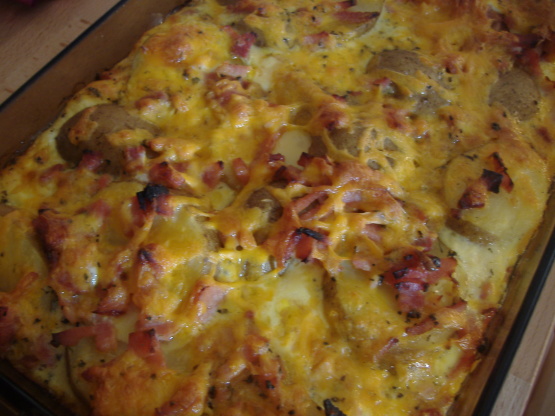 This is a make ahead morning casserole that combines eggs with meat and potatoes. Feel free to add mushrooms, peppers and/or onions to this for an extra added attraction!

Top Review by vrvrvr
Delicious, hearty and satisfying Christmas morning breakfast. Served piping hot from the oven, everyone loved this. Next time I will slice the potatoes thinner than half-an-inch, and I will use more cheese. This tastes wonderful reheated. Pure comfort food and a great addition to make-ahead breakfast casseroles!
Cook potatoes in skins until fork tender.
Cool, peel if desired and slice into 1/2 inch slices.
In a buttered 13x9-inch baking dish, alternate the sliced potatoes and the ham in layers.
Sprinkle the cheese over this.
Combine remaining ingredients and pour over the top of the cheese.
At this point the casserole can be covered and refrigerated overnight.
Bake uncovered at 375°F for 30-35 minutes, until a knife inserted in the middle comes out clean.
Garnish with fresh parsley or chives.