Baked Macaroni and Cheese
Lainey39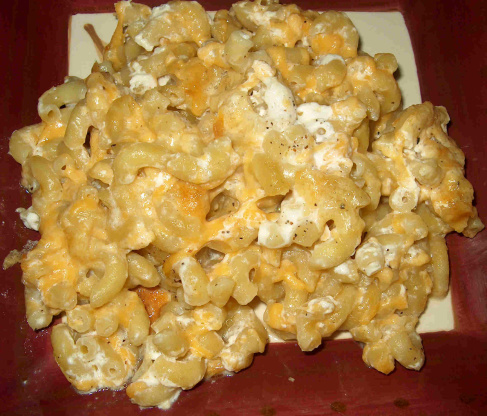 There may be lots of recipes out there for macaroni and cheese, but this is the first one I ever found that you don't have to cook the macaroni before you bake it. It is also really simple to put together - all in the casserole dish you are baking it in! I got this from a newsletter of an organization. I take this to potlucks all the time and I always come home with none of it left. It's a dish I'm constantly handing out the recipe for; be sure not to use cheese that has been frozen and thawed because it will ruin the consistency of the dish. You can also cut down on the butter if you would like to lose some of the fat. This is not a real creamy cheesy type of macaroni and cheese, which can sometimes be a little too rich for our tastes. I've made those, but my family prefers this kind over any other.

Very easy so a great recipe to fall back on when one's too tired to feel like making much effort! I used only 2 tablespoons of butter which I melted in a small pan so that I could panfry some minced garlic and onion in it before pouring the contents of the pan onto the macaroni. Apologies to any to whom this seems like a horrifically sacrilegious act, but I cannot remember having eaten macaroni and cheese since I was a child - and I really wanted some garlic in mine! Apart from that aberration, I followed the recipe exactly except for probably using more like 21/2 cups of tasty cheese and low-fat milk. Very tasty simple fare. A recipe I'll certainly make again when the occasion demands minimal effort. Made for Everyday is a Holiday!
Preheat oven to 350 degrees.
Melt butter in microwave.
Pour macaroni in 2-3 quart casserole dish. Pour butter over macaroni. Stir well to coat.
Add salt and pepper. Stir well.
Add cheese. Sometimes I may use a mixture of monterey, colby and cheddar, depending on what I have at the time. Mix well.
Add milk. Do not stir.
Bake uncovered in oven for 60 minutes. I do think this tastes best when it is still hot from the oven.