Baked Cod With Crunchy Lemon-Herb Topping
twissis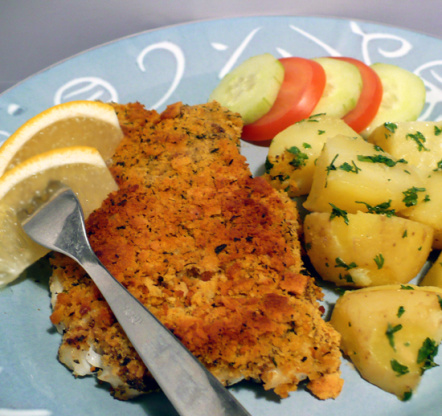 This is a very simple and quite delicious dish which can be made lighter and lower in calories and fat by using low fat crackers and light mayo. From America's Test Kitchens' Best Recipes of 2007.

I have been searching for a good recipe for cod and this is it! The topping gives the fish good flavor without being too heavy. I used a combination of equal parts dried basil, parsley, and dill for the herbs. I did not use lemon zest as I was using a bottled lemon juice. Next time I will make sure I get a lemon so I can make it as the recipe states and I'm sure it will be out of this world.
24

Ritz crackers, broken into crumbs about the size of peas

2

tablespoons herbs, fresh, minced (parsley, dill or basil, or a combination, divided use)

3

tablespoons mayonnaise

2

garlic cloves, minced

1

teaspoon lemon zest, finely grated

1

tablespoon lemon juice, fresh

2

lbs skinless cod fish fillets, 1/2 inch thick, pin bones removed, patted dry
salt & freshly ground black pepper
lemon wedge, for serving
Adjust an oven rack to the middle position and preheat the oven to 450°F
Lightly grease a rimmed baking sheet with nonstick cooking spray; set aside.
In a medium bowl, combine the cracker crumbs and 1 tablespoon of the parsley, dill or basil; Set aside.
In a separate small bowl, combine the remaining 1 tablespoon parsley, dill or basil with the mayonnaise, garlic, and lemon zest and juice; Set aside.
Season the fish fillets with salt and pepper to taste.
Place on the baking sheet, spacing the pieces about ½ inch apart.
Brush the tops and sides of the fish with the mayonnaise mixture, then press the cracker crumbs into the mayonnaise.
Bake for 8 to 15 minutes, or until the crumbs are golden brown and the fish flakes apart when gently prodded with a paring knife.
If the cracker crumbs brown before the fish is cooked, cover the fish with aluminum foil.
Serve hot with the lemon wedges.