Parsley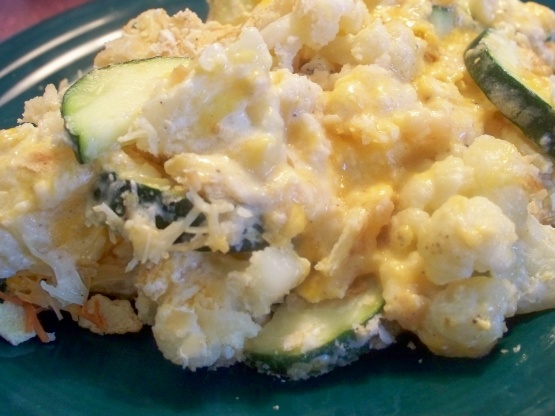 Delicious way to get your veggies. Sometimes I add other vegetables to give it a different look and taste.

I left out zucchini and had a big head of cauliflower. I used garlic powder and left out corn flakes. Steamed the caul. in micro. for about 11 minutes and it still came out slightly crispy. Nice change of pace.
Preheat oven to 350F.
Place cauliflower in a saucepan and cover with water.
Bring water to a boil and cook until cauliflower is cooked but still has some crunch.
Drain off water and place cauliflower in a bowl.
Add zuccini, garlic (if using), cheddar cheese, sour cream and salt and pepper and mix well.
Pour into a greased baking dish and top with cornflakes and Parmesan cheese.
Bake for 30 minutes.
Enjoy!