COOKGIRl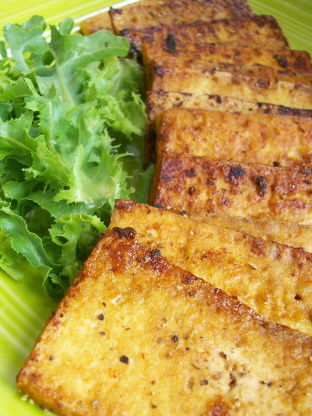 Tastes remarkably like bacon! I tried a recipe on Zaar and tweaked it. This makes great sandwiches and can be used in stir frys, to top salads, anywhere you might use bacon. Enjoy!

This was amazing! I halved the recipe and cut the tofu very thinly (almost see through in spots) and it crisped up perfectly! I will be making this again and again! Thanks for the great new recipe!
Heat oil into large skillet.
Fry "bacon" strips on low heat until crispy on the outside. To do this, place them in the pan in the oil and let them simmer for about 10 minutes, without turning. Now they are firm enough to turn easily.
Turn them and simmer another 10 minutes on the other side.
Mix the soy sauce with the liquid smoke and brown sugar, stirring to disolve sugar.
Remove skillet from heat.
Pour the liquid smoke mixture into the pan and move the tofu around so all sides are coated. Place back on heat.
Sprinkle the nutritional yeast, covering all sides. If you like, sprinkle a little freshly ground black pepper on now. Stir gently until the liquid is gone and the tofu is covered with a crispy coating of yeast. Enjoy!