Boomette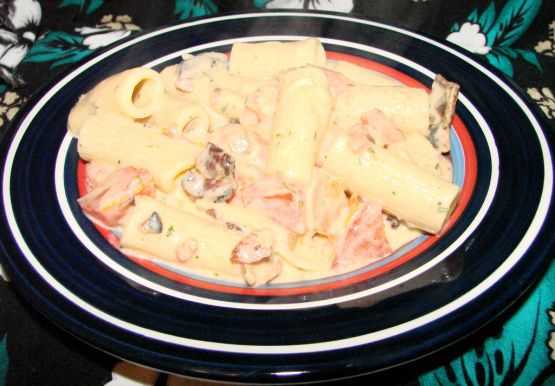 This is a yummy warm comfort food...a new "twist" on mac and cheese :) The bacon and tomatoes add great taste and it's pretty easy to prepare...all on the stovetop!

Yummy! A very easy and quick stove top dinner! I get tired of making pasta dishes with red sauce; and this recipe was perfect for a change. The only thing I did differently was I used 1 14oz can diced tomatoes (Contadina Italian Seasoned Diced Tomatoes) and I drained them; rather than the fresh tomatoes. I served this with tossed salad and garlic bread. And the dried parsley adds a nice touch to the presentation. We loved it; definitly a keeper!
Cook Rotini according to package directions and drain.
In a large saucepan, melt butter and stir in flour, salt and pepper.
Blend in milk, stirring constantly over low heat, until thickened and bubbly.
Stir in cheese, parsley, bacon, tomato and rotini.
Toss to coat evenly and heat through.
Serve immediately.