Baby Spinach and Raspberry Salad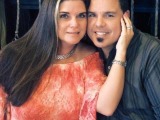 A beautiful, colorful and delicious salad!
Directions
Heat oven to 350°F
Toast sunflower seeds on a cookie sheet for 4 minutes.
Whisk together vinegar, honey, herbs, garlic, and shallot.
Slowly whisk in oil.
Season with salt and pepper and set aside. In a bowl, toss spinach with 2 tbsp vinaigrette.
Season with salt and pepper.
Toss with sunflower seeds and remaining ingredients and serve.
Most Helpful
One of my favorite salad recipes. I originally found it in Self magazine, April 2005.

Definitely a make again. I didn't have the fresh parsley so omitted it, but I often omit parsley since it doesn't taste like anything (at least me - perhaps my taste buds only recognize the spicy food I eat almost every day. Leanne