Awesome Marinated Sweet Potato Salad
KateL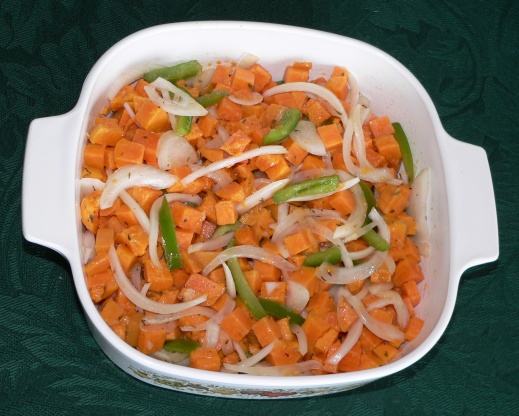 This recipe was given to by my friend, after trying it at her house.....a different and delicious way to serve sweet potatoes. Can't believe I haven't left a review! This is a vinegary base, so if you don't like vinegar, it's probably not for you. Every time I take it to a gathering, I have at least 1 request for the recipe. Yummm! This makes a lot, so when I make it at home I just halve the recipe. I usually use red bell peppers, because that's what I have on hand. And I use 3 or 4 cloves of garlic.
In a large saucepan, cook sweet potatoes in boiling water, just until tender, about 20 mins (don't overcook, as they will get mushy); cool completely.
Meanwhile, in a small bowl, combine the next nine ingredients; set aside.
Peel the potatoes, cut into small cubes.
In a large bowl, combine the sweet potatoes, onion and green pepper.
Add dressing and toss gently to coat.
Cover, and refrigerate for 3 or more hours to blend flavours.
Discard bay leaves before serving.