Ycooks2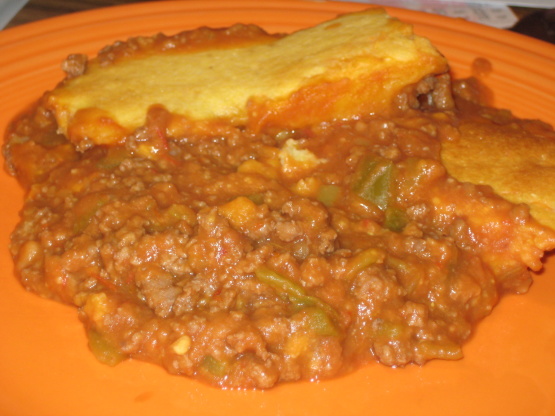 When everyone's starved, and I'm just not in the mood to cook, this tamale pie is the easiest thing to whip together and bake. It can be made spicy or mild to taste, depending on what type of salsa you use. This is the basic recipe, which is quite good buy itself, but you can also doctor it up by adding a couple of sliced jalapeno's or 1/3 a cup of black olives or even creamed corn to the cornbread.

I am a big fan of Mexican entree's. My husband actually complains about my love for them (I will always chose mexican). That is why it was so disappointing to have this for dinner. It was not only missing something it was dry cornbread with meat. It does not have the normal kick you would find in ethnic food. It was missing a lot and left you feeling like there was something not quite right with it. As other reviews have claimed they jazzed it up with many condiments and modifications, which makes it something else all together.
1

lb ground beef

1

medium yellow onion
1⁄4 teaspoon garlic salt, to taste

1

(16 ounce) canof your favorite salsa, we like medium hot

1

(16 ounce) can refried beans

1

(8 1/2 ounce) package Jiffy cornbread mix

1

egg
1⁄3 cup milk
Preheat oven to 350°F.
Prepare cornbread mix according to package.
In a medium large skillet over medium high heat, saute onions until translucent.
Add beef, and saute until browned.
Stir salsa and beans into beef, and cook over medium to medium high heat until bubbling and starting to thicken.
Stir as necessary while it cooks.
Pour beef mixture into 9x9 casserole (be warned, a pie dish is slightly too small for this recipe!).
Pour cornbread mixture over beef.
Bake in 350°F oven uncovered for 30-35 minutes, or until cornbread is cooked and starting to brown.