Nimz1466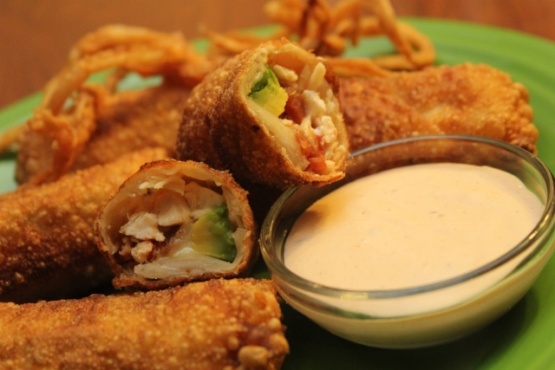 An eggroll with creamy avocado, crisp bacon, garlicky grilled chicken and melted cheese. Be sure to prepare these in the exact order written, to prevent the wrappers from becoming soggy. You can use your favorite ranch dressing to make the Ranchito Sauce for dipping. From the California Pizza Kitchen Family Cookbook

Different type of egg roll for sure. I was very surprised that the rolls didn't get soggy with the tomatoes and the avocado, but the instructions were perfect to keep that from happening. The sauce was nice and spicy which we enjoyed. Loved the bacon in this. Might want to saute some onions and peppers for some extra flavor. Served this with fried onion rings so we have had our fried food for the month. Made for My 3 Chefs 2013 Thanks
8

egg roll wraps (6-inch squares)

1

grilled chicken, breast diced 3/8-inch

2

large roma tomatoes, seeded and diced 1/4-inch
1⁄4 cup cooked bacon, chopped (1-2 strips)
2⁄3 cup monterey jack cheese, grated

1

medium Hass avocado, ripe peeled pitted and sliced

2

large eggs

2

tablespoons cold water

2

tablespoons cornstarch

2 -3

cups vegetable oil

Ranchito Sauce

1⁄2 cup ranch dressing
1⁄4 cup mayonnaise

1

tablespoon hot sauce
1 1⁄2 teaspoons hot sauce
Place the egg roll wrappers on a flat, dry surface with one corner of each pointing toward you (faced as a diamond, not a square).
Distribute the chicken, tomatoes, bacon and cheese on the wrappers in a row that is 1 1/2 to 2 inches wide and 5 inches long. Make sure that the filling is never less than 1 inch from the edge of the wrapper. Divide the avocado slices among the egg rolls, placing them on top of the cheese with the longer (skin) side toward you.
Lightly stir the eggs in a small bowl. Add 2 tablespoons of cold water and beat with a fork until evenly mixed.
Working with one egg roll at a time, lightly brush egg wash over 1/2 inch of each side of the wrapper. Fold the corner closest to you over the filling, pressing down and pulling tight toward the center. Press the left and right corners down to seal the edge. Lightly coat the 2 bottom corners with egg wash, then fold right and left corners inwards over the filling, pressing down to seal the edge. Add additional egg wash to the top corner creases and press down to seal. Continue rolling into a compact roll, pressing lightly to seal all edges.
Line a 9 x 13-inch baking dish with waxed or parchment paper. Sift half the cornstarch over the paper and place the finished egg rolls in the dish, making sure they do not touch one another. If you're going to fry the egg rolls later, sift the remaining cornstarch over the egg rolls, cover with plastic wrap, and refrigerate for up to 24 hours.
Heat the oil to 375 degrees in a deep 10-inch skillet. Fry the egg rolls, making sure that they are not touching (you may have to do this in 2 batches), for about 1 1/2 minutes. Turn with tongs and fry for another 1 to 1 1/2 minute, or until the egg rolls are golden brown all over. Remove with tongs and drain completely on paper towels. Cut each egg roll in half diagonally. Serve the egg rolls with the Ranchito Sauce.
To Make Ranchito Sauce: Whisk 1/2 cup of ranch dressing with the mayonnaise and hot sauce.