dojemi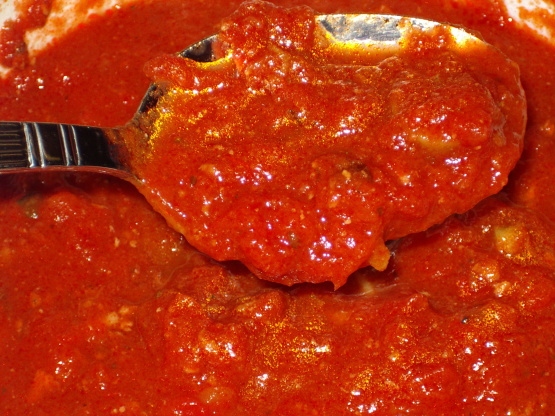 This is the best sauce you'll ever taste. The recipe was given to me by my sister who found it in an old cookbook. I've typed it as it appears in the book, but I also add meatballs, pepperoni (cut in 2" chunks) and sweet and hot Italian sausages. My Grandmother use to add chicken, rabbit, pork chops and/or steak to her sauce (a recipe I wish I had). All of which can be served on the side and make a wonderful addition to the meal. Please note that the serving size is for 1 pound of pasta, however, you may prefer to use less or more. In ( ) at the end of each ingredient are the proportions I use when I make this recipe. Freezes well.

This is a good sauce and I always use pork in my sauce..usaually neck bones because they are very cheap and I just wnat flavor..my sauce is never greasy.
Brown ribs in oil.
Remove ribs from oil and saute the onions and garlic till transparent.
Add tomatoes and water.
Raise heat and allow sauce to boil, mixing occasionally so bottom doesn't burn.
Reduce heat and simmer uncovered for 2 hours till meat is falling off the bones.
Note: As other reviewers have attested -- the ribs will not make the sauce greasy. Enjoy! : ).