Jenaemj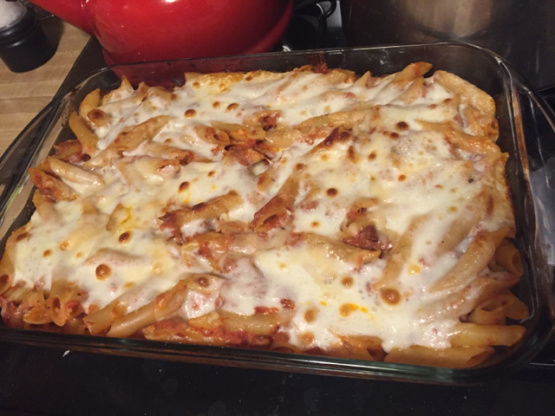 Baked Ziti is a wonderful dish all its own. When done correctly, it is actually very different from lasagna. If you get good ingredients and follow this recipe, you will end up with a delicious and unique authentic Italian meal that tastes like nothing you've ever had before! A word about the ingredients: fresh mozzarella cheese is not the same thing as part-skim mozarella cheese. Use fresh mozarella in this recipe. Marzano tomatoes are a must for this recipe as well, but in a pinch, Progresso whole Italian tomatoes will do. Fresh herbs can be found in the produce section of most stores, but dried herbs can be substituted.
I've made this dish many times throughout the years, and I love it!!! Sometimes I've even used Ricotta Cheese to give it my quicker version of Lasagna flair. I've used the sweet, and hot decased Italian sausages, and even ground beef... Which is how I'm preparing it today! I'm baking it for my girlfriends birthday, and she can no longer eat pork, what a shame Hahahaaaa. O use varying cheeses also, like, parmesan, Romano, and pecorino( hard to find this one tho) I've also combined ground turkey, or, ground chicken meat with the ground beef, it's a tasty alternative for those who may not eat beef... Tonight it's ground beef, and ground turkey!!! Bon Appetit
SAUCE.
Remove the sausage casings and crumble the sausage.
Add 2 teaspoons of olive oil to a pan, and brown the sausage.
Puree the tomatoes in a blender (not too much).
Add onions and garlic to now-browned sausage. Cook for a few more minutes until transparent.
Add your tomato puree to the sausage.
Add thyme and basil to sauce.
Add some salt and pepper to taste.
Add a generous pinch of the pepper flakes.
Stir this up, heat to near-boil, then let it simmer covered on low for 15 minutes.
BUILDING THE DISH.
Boil your ziti pasta to not quite al-dente. Don't overboil, pasta will soften while baking.
Cut the mozarella, half of it into 1/2 inch cubes, the other half in as thin of slices as you can manage.
Remove the herb sprigs from the sauce and discard.
Add the can of tomato paste to your sauce to thicken it up and give it a lively red color and more intense flavor.
Add the pasta, your sauce, the cubed mozarella and half the parmesan in a baking dish.
Top with the sliced mozarella and the remainder of the parmesan.
Bake for about 30 minutes until golden.