Australian Style Hamburger
Jubes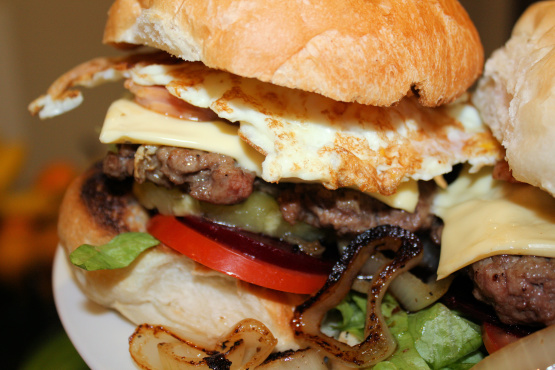 From alldownunder.com, they describe this as 'Aussie hamburger ordered "with the lot" – beetroot, pineapple, fried egg, bacon, grilled onion, cheese, tomato, lettuce'. Sounds like a big tasty burger to me!

I grew up with these burgers either home made or from the milk bar with some potato scallops on the side. The pickled beets are a must. Do make sure they are sweet pickled. I have a feeling some accidentally use the unsweetened which would be gross. Also nice chunky fries. I'm going to have to make one soon again. It does turn into a knife and fork deal but that's part of the goodness. I loved these in Sydney.
Cut the hamburger roll in half and butter both halves.
Toast both bun halves on the grill.
Fry the meat patty, the bacon rashers and the onion.
Flip the meat patty over and add cheese on top.
Fry the egg.
Butter the bun and add tomato sauce to taste. Assemble the hamburger: lettuce, tomato, beetroot, onion, pineapple & the meat patty. Top with bacon, egg, cheese and bun top.