Auntie Fanny's Pea and Mint Mash
Zurie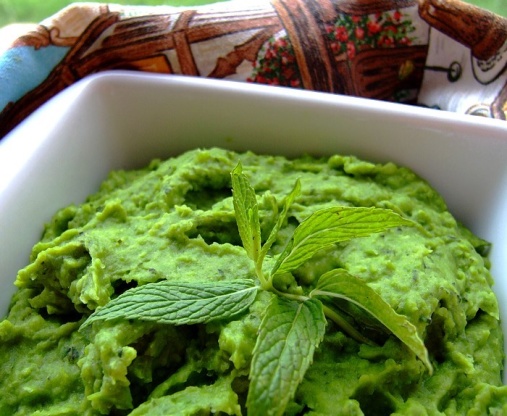 This is still only peas, tastes of peas, and does not pretend to be any great gourmet dish! It's a simple, comforting side dish, which should be served with roast chicken, roast potatoes, and another totally different-tasting veggie such as roasted butternut. In fact, that's exactly what I cooked for dinner tonight: roast tarragon chicken together with butternut fingers (from a pillow pack!) and a few potatoes. And salad. And wine.

Top Review by Wobin
Oh wow, this was amazing! I will admit that I had made Recipe #53876 in my food processor before making this and couldnt bear washing all those fresh herbs down the sink. So I am sure my version added more callories and a bit more zip with the dipping sauce reminents in my food processor. Only made it once so far but I think this is my favorite new dinner side. Thank you! It also gives me something nice to do with my mint, because a girl can only drink so many mojitos! Served it with lasagna and mixed green salad. Hubby was super impressed.
Peel the onion and potato, and slice, then cut both into quite tiny pieces so they cook quickly.
Heat a knob of butter in a saucepan. Fry the chopped onion and potato, stirring, until they just soften. Salt lightly.
Add the peas, frozen or fresh, and add about 1/4 cup (or less) water. Bring to the boil, and stir well as soon as the frozen peas release their icy grip.
Add more salt, the sugar and the pepper, and stir. Turn heat lower and put on lid.
Simmer for about 7 - 10 minutes. Stir through at least once.
Drain in a sieve over a bowl, keeping the cooking liquid. Chuck all into your processor, but the mashing part can be done with any other utensil which will do the job.
Add the mint, to taste, and process until well mashed but not totally smooth. You will have to add 1 - 2 tablespoons of the cooking liquid, but do not make it watery!
Taste for seasoning, and add more butter if you like.
Serve as suggested, with contrasting flavours, which it will need, as it's only a side dish and cannot stand on its own.